EMF Safety Surveys – Is Your Home Safe?

To find out if there are unhealthy electromagnetic fields (EMFs) in your home, phone me for an EMF Safety Survey.  This onsite assessment will identify problem areas and objects (phones, cell towers, geopathic stress, etc.) that may be generating unhealthy levels of EMFs and give you simple solutions.  More on EMF Hazards.

A written report about key rooms: kitchen, bedroom, living room and computer area is available. Results from Assessment will enable you to make the needed changes within your living environment. Cost:  $125.00/hr – 1 hr minimum
To schedule appointment call: (518) 383-9066.
---
Clearing Toxic Energy
When land is subjected to dumping, chemicals and conflict, it can remain energetically toxic for years, even after the physical clean up.
---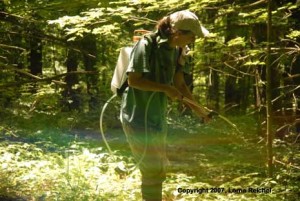 To restore harmony & balance to the  land, Maria Mihok uses her wilderness and earth healing skills to clear toxic energies from land that has been strip mined and deforested. This photo shows Maria  applying a Biodynamic agricultural spray to facilitate transformation of toxic energies, and restoration of property to a balanced state. A place that feels good. When asked later that day, what she had sensed as she sprayed, she said she felt the vibrational frequency of the land increase and the energy expand. This photograph confirms what she was picking up, as it reveals a multi-colored auric field of rising mist. This appeared in the photo but was not visible to the eye, as she worked. Auric Field Photograph © 2007, Lorna Reichel. All Rights Reserved.
EMF Safety Surveys Identify Unhealthy Energies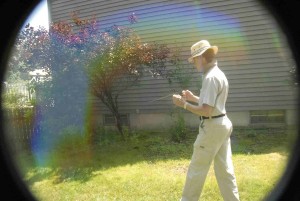 Dangers of WIFI, EMF, Radio Frequency Radiation
http://www.bioinitiative.org/-  Health risks after exposure to low (non-thermal) levels of electromagnetic fields and radio frequency radiation.
BioInitiative 2012 Report Issues Warnings on Wireless & EMF