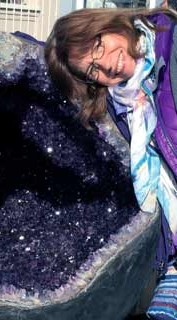 Crystals are masterpieces of natural beauty, design and function by Mother Nature. Each crystal has special qualities and uses. These metaphysical properties are listed below next to each crystal.  You can dowse, intuit or muscle test to determine if a crystal is beneficial for you and the best way to work with it and use it.  Crystals are conscious and can communicate with you, which they do every time they catch your attention.   As a Crystal Keeper, I hold onto them until they choose the person they want to go home with.  I invite you to browse my website and/or call me to come take a look at some awesome crystals!  Retail/wholesale.
•   Arkansas Crystals
•   Grid Sets
•   Tibetan & Brazilian Crystals
•   Herkimer Diamonds
•   Selenite
If you are planning a special occasion and want to do something different, host a Crystal Party!  I'll bring the crystals!
Rose Quartz Crystal Ball
– Natural, Polished, Madagascar –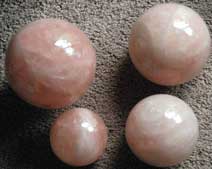 Rose Quartz emits gentle waves of love as it helps balance emotions, heal emotional wounds and traumas, and increases feelings of self-worth. Send love to your body.  It enhances forgiveness, compassion, tolerance, and attracts all forms of love, positive people and relationships.   Like any genuine polished quartz it has a few natural lines and tiny pits.  Available in sizes 2″ to 5.75″. Price: $30./and up.
Tangerine Aura
– Mt. Ida, Arkansas –
Boost Self Confidence
Clear natural quartz bonded with vaporized, finely powdered gold and copper.  Helps you recognize your unique gifts, talents &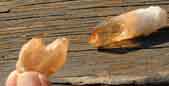 creative abilities. A joyful crystal that promotes drive & enthusiasm. It will direct energy to where it is most beneficial to stimulate, heal, and motivate!
Genuine Cultured Pearls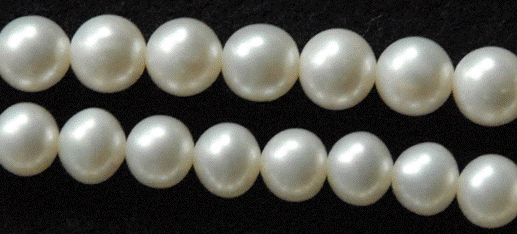 Super, High Quality
Calms, centers, stimulates spiritual transformation, promotes prosperity and success, and help with stomach, digestion and emotional stress. Amplifies focus, meditation skills,  clarity, and wisdom.   Price: $40 – $45.00/strand (approx. 60 pearls)
It's a lot of work to get these beautiful gems out of the earth. But it is a labor of love for my friend Lee, the crystal guru and Mount Ida miner who provides me with natural crystals.
Crystals receive, store and transmit information. They can amplify thought, emotion,  color,  sound and light. They are useful tools for sending energy and information into people, objects, and spaces.
Arkansas Quartz Crystals Gallery – Superior Quality – The top 1% of total production of all mines in the world!

---
Labradorite (Spectrolite) Standing Freeform
– Natural, Polished, Madagascar –
This rainbow flash quality specimen clears and balances the energy in a room anytime and/or during meditation. Promotes wisdom, understanding, patience and removal of fears and insecurities. About 4″ high, 3″ wide. Price: $90.00
Labradorite Palm Stone
– Natural, Madagascar –
RELIEVES DEPRESSION
Clears, balances and protects the aura. Place on body to balance chakras; Protects by deflecting unwanted energies. Helps provide clarity and insight into your destiny; attracts success; supports the path of the spiritual seeker; helps one to adapt to new energies and integrate new structure, enhances affirmation and visualization. Price: $10.00
Tip:  Before using a crystal, clear and cleanse it first.
Amethyst Clusters
– Natural, Uruguay and Brazil –
Purifies & Amplifies Healing and Spiritual Energies
In ancient times Amethyst was used to heal addictions and addictive relationships. Carries the Violet Ray which clears your aura, repairs holes in your energy field, and aligns your energy bodies. Excellent for astral travel, dream recall; alleviating insomnia & stress;  reducing eyestrain from too much computer;  Strengthening immune system. Transforms blocked energies. Transmutes 
that which no longer serves you.  Use to purify the body, raise your vibration, connect to the creator and manifest your intention.  Note: Amethyst left in direct sunlight will fade!             Prices: $12.00 – 34.00
Amethyst Standing Points
– Natural, Polished, Brazil –
An exceptional crystal for use in healing, calming and stress reduction, enhancing environment, clearing noxious earth energies, inspiring creativity, opening the third eye and helping one focus and amplify their thoughts. Amethyst protects against psychic attack by transforming non-beneficial energies into positive energy. Note: Amethyst left in direct sunlight will fade! Price: $35.00 and up
---
Azurite Crystal
– Natural, Bisbee, Arizona –
Stimulates 3rd Eye, Awakens Psychic Abilities
And enhances creativity and self-confidence. Works to align the chakras and attune the physical body to the ethereal nervous system, clearing toxins & energy blockages from the body. Place on your desk for help finding solutions
to problems and making better choices. Use during meditation to facilitate communication with your higher self and receive guidance from higher realms. It has been used to make an elixir to help prevent skin cancer and dry skin, by soaking azurite in water overnight, and cleansing the skin with this water after exposure to the sun.  Price: $6.00 and up (based on size and quality)
Citrine (Yellow Quartz)
Wealth, Happiness, Balance
– Natural, Tumbled –

Radiates positive energy to increase happiness, optimism, wealth, clarity, and dissipate negativity.  Keep in your pocket, give to those you care about, or create a crystal grid that absorbs and transmutes negativity while generating Good vibes.  Price: $10./12 pcs.
Smokey Citrine
Wealth, Dissipate Negativity
– Natural, Tumbled –
Dissipate negativity, increase happiness, attract abundance, clear stress and EMF pollution.  Can be placed in corners of a room to create a crystal grid of positive energy. Program with your intention and activate with a clear crystal or selenite wand.  Price: $10./Bag of 12

Crystal Pouch
Carry and protect your crystals in an all natural 100% cotton pouch. Hang around your neck. Size: 2 2/4″ x 3 3/4″.  Price:  $4.00
Lepidolite – Rare! "Crystallized Lithium"
— Natural, Brazil –
Reduces Stress/Depression & Balances Emotions/Mood Swings
Relieves every day stress, repels negativity, integrates energy from higher dimensions, and promotes peace and restful sleep when placed
near your pillow.  Attracts good luck and clears EMF pollution.  Pure, natural form of Lithium, a mineral used in antidepressant medication. Helps shift and restructure old energy patterns, bringing light, love, stability and hope to any situation. It calms, helps release energetic blockages, and is said to help people with ADD, OCD, and Bipolar Disorders. Placed directly on painful parts of the body, It helps with nerve pain, sciatica, neuralgia and joint problems. Works with all chakras with a focus on the Heart, 3rd Eye, and Crown Chakras. When used with rose quartz, it becomes a stone of reconciliation of love.  Price: $75.00
Wavellite
– Natural, Mt. Ida, Arkansas –

Rare Healing Stone
found only in Arkansas.  Helps one see the whole picture prior to making a decision, manage difficult situations, and provides info so one can recognize direct and indirect methods of accomplishing a task. Increases intuition and activates inner knowledge. Price $20.00 – $45.00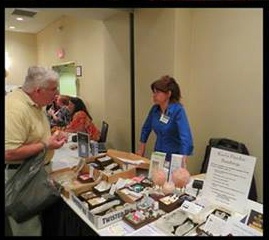 •  Selenite
•  Grid Sets
•  Arkansas Crystals
•  Herkimer Diamonds
•  Tibetan & Brazilian Crystals
FLUORITE – Composed of calcium fluoride, it has a stabilizing energy. It has been used to strengthen bones, teeth, blood vessels, spleen; facilitate balance, healing, clarity of mind, concentration, and meditation; heal arthritis; absorption of vital nutrients. Assists one in discerning truth of a given situation, and perceiving higher levels of reality and consciousness. Absorbs and clears air of psychic clutter.  (Fluorite fades if left in direct sunlight too long!)
Green Fluorite Pyramid
– Natural, China –

Stone of Discernment, produces order and stability. Balances the energy in a room, brings a new dimension to your meditation practice, Rids one of energy lines/cords and balances chakras when placed on the body. The pyramid shape creates an energy pump whereby energy is drawn in at the base and comes out through the top. Base 2.5″x2.6″ 3.25″ high.  Price: $49.00
Rainbow Fluorite Cabs & Polished Free Form Matched Sets  – Natural, High Quality –
 Absorbs & neutralizes negative energy, stress, and pain.  Increase concentration and self-confidence, and raise your energy levels. Shield yourself from absorbing the energy and feelings of others. Used for aura cleansing, balancing, regeneration, and on bones and teeth for cellular degradation. This quality is hard to come by. Sold in sets of 3 per pack, as pictured. $25.00/pack
Purple Fluorite
– Natural, Polished Standing Point –
Stimulates 3rd eye, supports spiritual development, channeling, access to Akashic records to review past lives, and inter-dimensional communication especially with nature spirits. Price: $40.00
Purple Fluorite

– Natural, Raw Speciman
– An interesting semi-translucent chunk of purple fluorite that is shaped like a spacecraft and is sure to catch your eye. Price: $40.00
Purple Fluorite Slab
– Natural, China–
A translucent,
semi-transparent slice of purple fluorite polished on both sides. Excellent for cleansing & balancing the aura, and getting rid of unwanted attached energy lines from other people (aka "cords"). Absorbs & neutralizes negative energy and stress; increases concentration, self-confidence and helps one ground excessive mental, emotional and nervous energy; balance & harmonize energy in your home; heal arguments; protect your space from unwanted energies; and inspire creativity. Raises the vibration of anything you place on it.  Price: $8.00 – $25.00
Bloodstone
– Polished Cabochons and Pendants –
A green chalcedony with red flecks of red jasper or iron oxide. Bloodstone calms fears and anger, dissolves blockages, and enhances courage, self-esteem, energy and protection from injury. It was carried by soldiers to avoid being wounded and to stop bleeding. Oxygenates bloodstream. Enhances physical and mental vitality. Strengthens heart, spleen, bone marrow. Aids in balancing iron deficiencies. Physically stimulates the movement of kundalini energy and will link the root Chakra with the heart Chakra.
Native American Turquoise
Vintage Cuff Bracelet – signed
Turquoise Master Healing Stone set in Sterling Silver- heavy Navajo bracelet. Strengthens physical body, enhances wisdom & understanding, and increases kindness and one's ability to see beauty,  strengthens the connection to spirit.   Price: $240.00
Beautiful Crystal Pendants
with Health Benefits
Turquoise Sterling Silver Pendant
Hand-Woven & Wrapped
– Protection, Strength –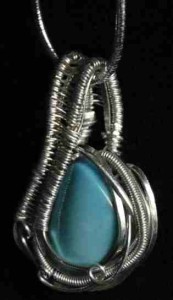 Sterling Silver TURQUOISE protects, absorbs negativity,  creates a clear channel for connecting to spirit, enhances friendship, tones and strengthens the body and intuition.  
Price: $160.00
Peridot Crystal on Clear Quartz Pendant
Custom Hand Wrapped/Woven Sterling Silver
– Natural Cluster, Mt. Ida, Arkansas –

Stimulate brain function and activate all levels of consciousness with this One of a Kind, hand wrapped, woven and coiled Sterling Silver wire pendant! The clear Mt. Ida Quartz stores, transmits, and amplifies energy, while the vivid green peridot crystal promotes emotional healing & balance. Helps clear blocked energy pathways to the heart, heal damaged egos, and alleviate emotional stress, depression, fear, and anxiety. The peridot's healing properties are amplified by the Quartz. The Egyptians, Incas, and Aztecs used peridot to gently cleanse and heal the physical heart, (lungs, lymph, breast), spleen, and intestinal tract. Also used for astigmatism & nearsightedness, to strengthen the eyes. Pendant Size: 2 3/4″ long. Price: $250.00
Claw Clutching Jasper Crystal Ball Pendant 
Brown and black Jasper is used to balance energies, emotions, and fears.
Price: $10.00
Crystals | Arkansas Quartz Crystals | Tibet & Brazil Quartz  | Herkimer Diamonds I | Herkimer Diamonds II | How Herkimer Diamonds Are Mined | Selenite Crystals
More Natural Crystals & Minerals
Amber
Amber is actually fossilized sap from prehistoric pine trees. It dissolves negativity. It has been used for protection, purification, and to draw dis-ease out of the body. This fossilized resin exerts a positive influence on endocrine system, spleen, and heart, soothing, harmonizing and healing the physical organism. Electrically alive with solidified golden light, Amber stabilizes physical discomforts due to a person's kundalini awakening. Works with crown Chakra.
Aragonite Clusters
– Natural, Morocco –

Sending light and energy in all directions, it helps one connect to mother earth, get grounded and clear blocked ley lines and affects of geopathic stress. Useful for emotional & spiritual healing of people and earth; overcoming stress & anxiety; bringing stability; clear energy, balance base and lower chakras, and raise your vibration in preparation for connecting with spirit; energize physical body. Use during meditation to remember and release forgotten memories. Price: $10 small- $15.00 large
Black Tourmaline
– Natural Specimen- Protection!
Repels & blocks negative energies, including EMF's, Computer radiation…

One of the best protection stones.  Increases vitality, emotional stability, intellectual acuity, and well being. Rubbing the stone charges it with magnetic electricity which intensifies good luck & happiness. Creates a positive attitude and mindset. Some specimens have Mica, which enhances positive and protective energies. Grounding stone to help you feel more centered, balanced and focused. Price: $10.00 to $25.00/bag.  small and large specimens available.

Candy Geodes
– Natural, Mexico –

Ordinary round rock on outside (the size of a baseball), with breathtaking, very fine, tiny, fairy-like quartz crystals and drusy inside. Useful for enhancing clarity, memory, and observation;  Helping you see the big picture, make decisions, realize your inner power & create your future.  Price: $20.00
Blue Kyanite
Clearing, Calmness, Attunement, Healing

Strengthens aura by clearing energy channels &  aligning all subtle bodies;  stimulates 3rd eye and increases psychic awareness; Use on throat chakra, communication issues and to help speak truth with clarity.  Use for lucid dreaming, astral travel, channeling, meditation, to promote calmness, and to restore energy to the body.  Price: $10.00/Bag of 10-20 pcs;
Blue Kyanite in Quartz Matrix
Natural, Brazil – Larger Specimens

Quartz amplifies Kyanite's properties. Kyanite Inspires creative expression,  loyalty, reliability, serenity. Helps one learn and acquire new knowledge. Keep one on your desk and use during meditation. Price: $10./and up according to size and quality.
Malachite
Natural, Polished, Zaire (Congo)
Protection, Clearing and Healing Earth Energies.

Absorbs negative energy, radiation of all kinds, pollutants from the atmosphere and the body. Place on desk to absorb and clear electromagnetic radiation. Keep near microwave ovens in the kitchen and TVs in living areas. In the workplace Malachite protects against noise, over-bright fluorescent lighting, and harmful rays from technological equipment, negative phone calls and emails. Price: $10 – 62.00 ea.
Malachite Raw specimens – Price: by size and quality
Polished Cabs

Malachite Cabs –     Price: $7.00 – $186.00 each. According to size and quality.

Tigereye Polished Cabs
– Natural –
Helps focus the mind, get clarity to see and understand different perspectives. Holds the energy of the sun and earth. Useful for working with 3rd chakra to release fear, calm emotions, and create peacefulness. Price: $27.00 each
Polychrome Jasper Freeform
Polished
Price: $20.00 and up
Natural Tumbled Crystals
Chevron Amethyst –
Enhances intuition and physical vision; removes blockages to change; clears and repels negativity; Creates strong healing field around  user. Clears and strengthens aura, enhances immune system, amplifies energies needed for manifestation and grid work. Gently removes veils obscuring hidden meanings in life. Use during meditation to enhance quality and frequency of visions and inspiration from higher realms. Price: $3.00 each
Jasper –

Carnelian –

 Gray Banded Agate  – Radiates a gentle, stable energy. Excellent for balancing emotional, physical and intellectual energy, and harmonizing positive and negative forces. Price: $3.00 each
Rhodocrosite
– Natural, Hand Polished, Argentina
–
Expands consciousness, integrates physical and nonphysical energies, boosts self confidence, while radiating love. Also used to resolve past life issues.  Price: $10.00 each

Small Geodes
– Good Tools for Meditation –
Holding energy and information useful for remembering a feeling, a way of being, and things needed to do, Geodes help you see the big picture, come to a decision, and remind you that you create your future. Choose one that you feel connected to.  It bridges communications with the Higher Self and with people that are in the same field. Assists in astral travels. Price: $3.00
Goldstone Hearts
A type of glass made with copper or copper salts in the presence of a reducing flame. Uses: Vitality, energy.  Used since the European Renaissance. Early monks working at a glass factory near Venice, Italy were practicing alchemy when molten copper accidentally tipped into a molten glass container. This crystallized into thousands of tiny crystals and formed a melt with golden light sparkles. This is how the first goldstone came about. Though not technically a gemstone, it is often referred to as one. Price: $10.00 ea. or 2 for $15.00
Record Keeper Crystal
– Natural, Mt. Ida, Arkansas –
A quartz crystal that has pyramidal or triangular shapes –either engraved into or raised on one or more faces of a crystal, is called a Record Keeper.   Uses: Sacred crystal because it holds the wisdom and knowledge of the universe. When a person is properly attuned to a Record Keeper, this knowledge is readily made available. This knowledge is ancient knowledge and contains profound secrets and esoteric knowledge of the whole of the Higher Consciousness. It takes an open mind and a pure heart to access this knowledge. They are commonly thought of as 'crystal memory banks' which contain ancient knowledge awaiting for just the right person who has the ability to decipher it's hidden power. Points and clusters. Price: by size and quality.
Rutilated Quartz:
– Polished Point, Brazil –
Transparent with long slender rutile crystals passing through the colorless quartz crystal which has faint veils and small planes inside it. Uses: tissue regeneration, immune system, energy, vitality, stimulates brain functions, increases psychic abilities, breaking old patterns, childhood blockages, transmutes negativity, depression. Use with all Chakras.
Prehnite with Epidote – Rare!
– Natural Botryoidal Specimens, Mali, Africa –
Prehnite connects the will & heart helping one attain the highest good. Enhances inner knowledge, showing path to spiritual growth through attunement to divine energy. Used to access higher levels of awareness, stimulate the third eye chakra, and find root causes of illness. Healers use it for the kidneys and bladder, thymus gland, shoulders, chest and lungs. Specimens display fine gem-like green spherical aggregates of Prehnite with dark brown/green crystals of Epidote. Prehnites have thousands of sharp micro terminations all over the "balls" to facet nice gemstones.
Shungite (Elite/Silver) – Rare!
– Natural, Russia –
High quality specimens about 98% organic carbon (containing natural fullerenes), which give them the ability to absorb and neutralize negative energy, emotions, harmful chemicals, and electromagnetic radiation (EMFs). Shungite interacts with your energy field and environmental influences in a positive way. Wear it, place in a pocket, or place in water to purify the water and drink later to detox the body.  As with any crystal, it is suggested that you dowse, intuit or muscle test to determine whether this crystal is beneficial for you and the best way to work with it and use it. 

Home |   Crystals & Minerals | Tibet & Brazil Quartz | Selenite |  Mt. Ida, Arkansas Quartz  | Healing Grid Sets  |  Herkimer Diamonds  |       How Herkimer Diamonds Are Mined  |   Crystal Facts  |   Contact
Disclaimer: Metaphysical and crystal healing properties and uses described on this website are for informational and educational purposes only, and not to replace the advice of your doctor. Info about traditional, historical, and ceremonial crystal properties has been collected from many sources and is not only the opinion of Lorna Reichel. Should you have any medical conditions, please see a licensed medical practitioner. Lorna Reichel does not guarantee any claims or statements of healing or other powers and cannot be held liable under any circumstances.