What is A Crystal Grid?
A crystal grid is a group of crystals that are placed in a harmonic, geometric pattern, creating a unified energy field. As each crystal amplifies the energy of one or more crystals, a stable, controlled area of amplified energetic accumulation forms. This can be used to magnify and focus your intention for healing, protection, manifesting, and communicating.  The grid is activated and programmed with your mind. With conscious attention and intention, these fields provide access into higher dimensions.
---
Reiki/Healing Grid Sets Made to Order
Choose from one of the custom made sets below or call (518) 383-9066 to order a healing set to meet your specific needs.
---
Tibetan Quartz Double Terminated Smokey Crystals
Healing Grid Set (Tibet)
Includes: 8 Tibetan Quartz Smokey Crystals, 1 Rose Quartz Crystal Ball,   1 Selenite Crystal Wand, Felt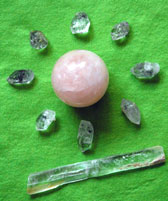 This high quality, all natural, grid set has been hand selected and sorted by size to create wonderful crystal grids for your healing and energy work. The grid set contains 8 large, Tibetan Quartz Smokey Crystals; (1)  2″ est. Rose Quartz Crystal Ball; and 1 selenite crystal wand from Mexico. Some quartz crystals are beautifully clear with a hint of black carbon, some are gray or cloudy due to carbon and hematite. Tibetan Quartz Smokey Crystals are excellent for healing work and meditation. Can be placed between energy points to clear and activate stagnant energy; receive or transmit energy from both ends; for alignment, patience, perseverance, protection, dreams and astral projection. Strengthen energy flow & create an energy vortex that can clear all unwanted energy.  Used to remove sickness from the body by changing negative energy into positive energy; helping to break up mental blocks, which can create addictive or unhealthy practices. Tibetan Quartz hold sacred, harmonious and balanced energy. Price: $85.00
Crystals & Minerals  •  Arkansas Crystals  •  Grid Sets
Tibetan & Brazilian Crystals
Clear Quartz Crystal Points
Healing Grid Set (Mt. Ida, Arkansas)
Includes: 6 Clear Quartz Points, 1 Amethyst Point, 1 Selenite Crystal Wand, Pink Felt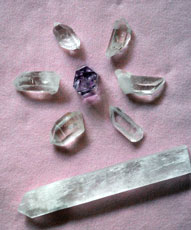 This high quality, all natural, grid set has been hand selected and sorted by size to create wonderful crystal grids for your healing and energy work. The grid set contains 6 large, clear quartz points from Mt. Ida, Arkansas; 1 amethyst quartz point from Brazil; and 1 selenite crystal wand from Mexico. Some quartz points are beautifully clear and some also have some scratches on them. Clear quartz is the universal stone. A pure & powerful energy source, it receives, activates, stores, transmits, and amplifies energy.  Program it with your mind. Price: $65.00
Tibetan Quartz Double Terminated Smoky Crystals
Healing Grid Set (Tibet)
Includes: 7 Tibetan Quartz Smokey Crystals, 1 Selenite Crystal Wand, and Green Felt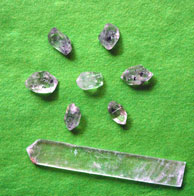 High quality, all natural, grid set has been hand selected and sorted by size to create wonderful crystal grids for your healing & energy work. The grid set contains 7 large, Tibetan Quartz Smokey Crystals and 1 selenite crystal wand from Mexico. Some quartz crystals are beautifully clear with a hint of black carbon, some are gray or cloudy due to carbon and hematite.  Price: $48.00
____________________________________________________
Green Tourmaline Rods in Quartz Crystal Matrix
Healing Grid Set
High quality, all natural, grid set has been hand selected and sorted by size to create wonderful crystal grids for your healing & energy work. This grid set includes (6) green tourmaline rods in quartz crystal matrix specimens (ideal for healing, balancing and harmonizing chakras, clearing the aura and removing blockages), 1 selenite crystal wand from Mexico, and one 9″x12″ sheet of colored felt.  Price $ 135.00
---
Crystals & Minerals
Arkansas Quartz Crystals – Smoky, Golden Healers, Points, Clusters               Natural Tibet & Brazil Quartz Crystals – Clear, Smoky | Selenite  |  Herkimer Diamonds I  |  How Herkimer Diamonds Are Mined |