Improve Health, Relationships
Anything You Can Imagine
Our life processes require energy.  Some of this energy comes from the foods we eat (caloric energy), and some comes from the cosmic (subtle) energy all around us. Subtle energy supports the body's innate intelligence and self healing capabilities. In my research, I have found this subtle energy acting as a catalyst for people to heal themselves personally and spiritually, and realign with their highest potential & ideals. I try to educate clients as I disseminate information during consultations and while developing creative solutions, which are delivered with compassion, (so people feel better). I'd love to work with you. Together, we can address anything you can imagine.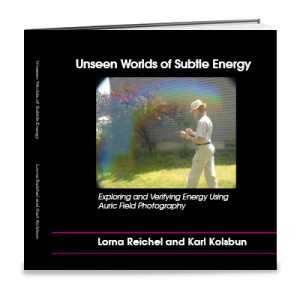 You'll get a new perspective looking at photographs of the energy rainbows that appear and radiate around people, places, and things. Increase your knowledge of the dynamic electromagnetic field that we each create.  "Unseen Worlds of Subtle Energy:   Exploring and Verifying Energy Using Auric Field Photography"  by Lorna Reichel.
See photographs of energy fields, also known as auras, that exist all around us. Receive useful, practical information. Get new perspectives of reality that empower & inspire.  For a fun, light hearted intro to subtle energy, I offer "Exploring & Playing with Energy Workshop."  To explore wellness and the power of intention, I offer, "Human Transformation and the Art of Creating Health."  See awesome visuals, learn the meaning of colors in the aura, and experience the power of directed intention (subtle energy).

Crystals have consciousness. Their life force energy works with the subtle energies of the body to promote health and healing. While quartz crystals have specific metaphysical properties, these properties can be expanded by programming and/or using different crystals together. I sell an excellent assortment of natural crystals and minerals. Check them out! Crystals & Minerals 
Dowsing Services and Instruction
If you need information or to balance energy, I can assist you. Or, if you want to learn to dowse,  I'll teach you practical skills that can make a difference in your life. Individual and group classes.
To Schedule A Session or Purchase Products
Educate yourself by browsing my website. Then call me for a consultation, to make a purchase, or questions. Overcome obstacles and accomplish your goals!  Call  (518) 383-9066.
Join My Mailing List.  Stay informed. 
Holistic Health Learning Group
All In The Mind – Explore cutting edge discoveries, technologies & holistic practices for better health and self healing.   Read more ... Programs and Topics | Speakers Corner |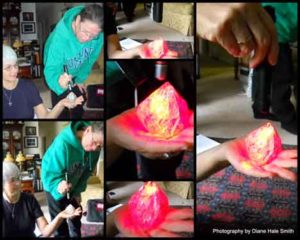 Copyright ©2017-2019 Lorna Reichel, All rights reserved. Photographs on this website are protected by US copyright law and may not be used for any purpose, without permission from Lorna Reichel.