We Are Electromagnetic Fields of Subtle Energy
Our unseen "subtle energies" support our body's innate intelligence and self healing capabilities. When they are balanced, we are well. When they are weak, disturbed, or blocked, the result is dis-ease.
Hi. My name is Lorna Reichel, Biofield Wellness Facilitator, and this is my website.
I am … a teacher, healer, researcher, leader, artist, photographer and musician. I educate and inspire people, as I help them realign with their highest potential & ideals. A pioneer in the fields of biofield imaging, healing with information, and personal transformation … I help to identify & balance unhealthy EMFs, dirty electricity, and geopathic stress; sell crystals and minerals, and continue to develop spiritual awareness and higher aspects in my clients and myself. I'd love to work with you. Together, we can identify issues and find solutions.
I am the Author of "Unseen Worlds of Subtle Energy: Exploring and Verifying Energy Using Auric Field Photography". If you have never seen the energy rainbows that appear and radiate around people, places, and things, the photographs in this book will give you the opportunity to do so. Electromagnetic fields of energy and information are everywhere.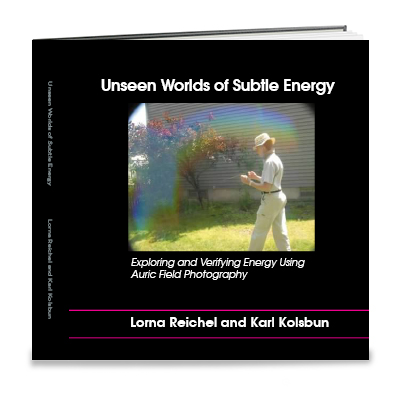 If you are concerned about the state of your aura . . .
I offer Aura Scans in person or by phone. Schedule a Scan to clear, strengthen, and balance your 16 energy fields. Restore your aura to it's optimal state. For detailed information about balances and imbalances in your etheric and astral energy bodies, I suggest you get an aura image and brain map.
If you want a subtle energy experience . . .
Attend a Workshop & Visual Presentation. Get new perspectives of reality that empower & inspire. Explore wellness and the power of your mind, with "Human Transformation and the Art of Creating Health." Through unforgetable visuals, you'll learn the meaning of colors in the aura, experience your power of directed intention (a subtle energy), and more.
If you Love crystals, visit my store . . .
You'll find the metaphysical properties of crystals. You can call me if you want to host a crystal Party. I sell an array of crystals, Check them out! Grid Sets

To Book Your Personal Session or Purchase Products
Educate yourself by browsing my website. Then call me for a consultation, to make a purchase, schedule an appointment, or get answers to your questions. Call (518) 383-9066.
Copyright ©2017-2023 Lorna Reichel, All rights reserved. Photographs on this website are protected by US copyright law and may not be used for any purpose, without permission from Lorna Reichel.